Trust. Leadership. Connection.
Which can I help you with today?
Make your choice below
Professional horse training, using an approach that you may have never been exposed to before...

Many people think that professional horse training is all about hiring an expert to "fix" whatever is wrong with their horse.  The approach that I take to horse training is very different than this.  I try to see every situation through the horse's perspective.  This allows you to have a level of empathy for the horse, and become a calmer and more understanding teacher, even when faced with seemingly difficult or frustrating situations.
Before focusing solely on fixing the horse, I assess any contribution I might have made to the negative behavior. I also try to understand why the horse is responding the way it is, based on its psychology, unique personality and the ways in which it views the world as a prey animal.
An understanding of prey animal psychology, along with developing a language with the horse, is essential to accomplishing your goals and addressing any problems or issues.  The overwhelming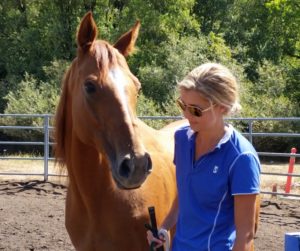 majority of your communication with your horse should be based on body language, as this is the way that both wild and domestic horses most often communicate with each other.
When you communicate with your horse through a language they can understand and take into account their psychology and unique personality, that opens the door to establishing a true, genuine and healthy relationship with your horse.  A relationship in which the horse is not forced to be with you, but WANTS to be with you. You can see examples of this type of connection in my videos with my Arabian mare Cece.
When you are able to reach a high level of connection with your equine partner, it becomes apparent that professional horse training is about more than just fixing the horse. It is about two partners in an open dialogue, moving willingly towards a common goal.
If you live in the Marin or Sonoma County California area and would like some help addressing problems or building your relationship with your horse, please go to my Contact Page and send me a message with a description of your problem.  Or feel free to just give me a call and we can talk!  I'm happy to help you in any way I can!