The Secret To Having Your Horse Willingly
Do What You Ask... Without Using Force
When the "See, it's ok here in the trailer... it's not hurting me" approach doesn't work, some people decide to force the horse into the trailer. You can imagine how horrifying that must be for the horse.
It's the equivalent of a mountain lion wrestling you into its cave. And even if the horse survives the experience, it's not going to want to do it next time.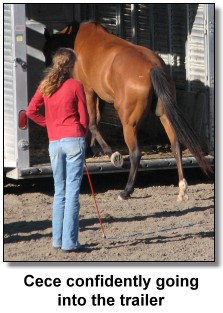 Horses that are truly afraid of humans are not just worried that their human will get mad at them from time to time. Being prey animals, they think that they are truly going to die!
If you were able to interview an "untrustworthy" horse, I'd be willing to bet they would agree that all I've been saying above is true.
But there is good news. Horses, also by nature, are very willing to do whatever you want, once they are relaxed and are not so worried about their survival.
This is when you see the beautiful aspects of horsemanship such as dressage and performance level riding. Or when you see a trusting, willing, lesson pony.
To show you what I mean, below is a video of me working with my Arabian mare Cece. Notice how willingly and easily she trots right into the stock trailers when she is relaxed and confident.
And also notice the approach I use when she is more fearful of the straight load trailer where the space is more confined.
To watch this trailer loading video, click here.
Natural Horsemanship addresses the foundational principle we've discussed above; that horses are prey animals and people are predators. When you apply this principle across the board, you will begin to realize why some problems repeatedly come up. Applying this principle also is the starting point to help people become more understanding of the horse's situation and mental state.
More good news for you is that horses are so perceptive that after reading this, watching the videos and gaining a new outlook on the true instinctual nature of horses, when you go to see your horse, they will sense that something is different in you and that you know something that you didn't know before.
This absolutely does not mean that any of your problems are solved. It just means that you have taken the first step to becoming a horseman.